Import and Global Export of Comec machines
Better service for a great price!
ABOUT COMEC MACHINES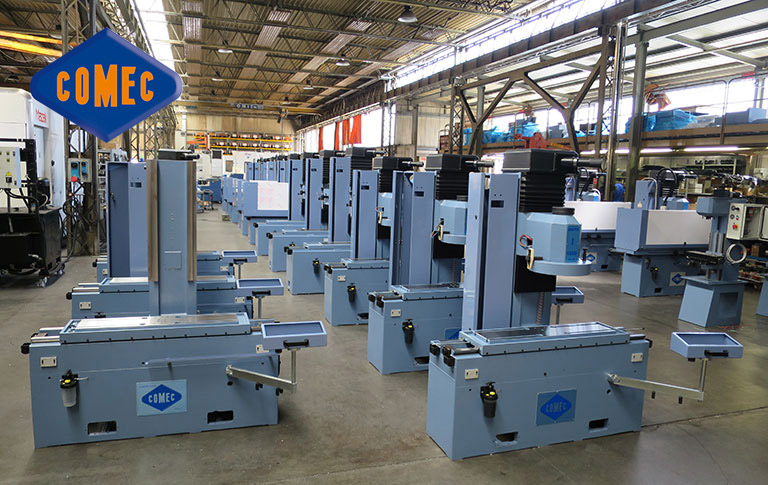 Comec machines manufactures machines, tools and equipment for reconditioning engine parts like cylinder heads, blocks and valves of motorcycles, cars, commercial vehicles, trucks and marine engines. All Comec machines are manufactured in series at the company's own factory in Porcia Italy. FijnTechniek Fijnaart (FTF) has been an professional importer and exporter of the Italian brand Comec machines for a long time. The high standard of our products and services has created a solid reputation and excellent business relation with a great number of international clients. Tolerance and acceptance are important to achieve equality at all levels.
Comec machines and FijnTechniek Fijnaart (FTF)
FijnTechniek Fijnaart is a family-owned company and exporter of Comec machines and original Comec spare parts. With over 30 years experience in the engine rebuilding industry, we have grown into a solid and innovative global project partner for our loyal customers. We take pride in serving our customers with our experience in exporting our products worldwide, our extensive knowledge of the products we sell and our close connection to local markets, while supplying quality products at competitive prices.
It's our mission to be our customer's most trusted supplier, through premium service, a well-balanced range of spare parts and accessories and decades of industrial and automotive experience.
We export Comec machines all over the world and we guarantee quality, reliability and accuracy for a competitive price!
The largest components of each machine are made with ultramodern CNC machines. Then each machine goes through the necessary steps such as painting, wiring and assembly. Finally, every Comec machine is extensively tested for quality, operation and accuracy. The Comec machines can then be delivered to the customer, or stored in the warehouse. This guarantees quality and almost every model is available straight away, sometimes even with customisations done.
FijnTechniek Fijnaart and Comec machines are widely appreciated and recognized by its customers, whereby FijnTechniek Fijnaart offers excellent service and after sales for all its customers worldwide.
Spare parts
FijnTechniek has access to virtually all the spare parts for the Comec machines and models that we supply. We only supply genuine parts coming from the original Comec manufacturer in Italy. Comec machines not only has spare parts for all current models in stock, but also for models that are currently no longer in production. This allows us to have the parts in house very quickly, so that the well-known service of FijnTechniek can continue to be guaranteed.
If you can't find the part or accessory you're looking for, or if you have any other questions, please don't hesitate to contact us.
WE HAVE MORE THEN 30 YEAR'S OF EXPERIENCE IN INSTALLATION AND SERVICING

Comec machines Engine line 
Comec machines Engine line
Want to know more about our Comec machines?
Comec Machines and Technological developments
Comec machines and FijnTechniek are always open for improvements to our machines. That is why we are constantly working on new technological developments. Our partner FijnTechniek and the end users are crucial to us and we take the advice of our users very seriously. So technical adjustments are made in such a way that our customers always take the benefit.
The design department of Comec machines is equipped with the most modern 3D design software. The prototype department fits in seamlessly with this, so that increasingly sophisticated machines can be built with the same quality, reliability and accuracy that you are used to from us.