Comec BGV260

Cylinder head guide press
The Comec BGV260 is the ideal machine for quickly and accurately replacing valve guides in cylinder heads.
Cylinder heads of small engines, but also of large industrial diesel engines can be processed with this. The Comec BGV260 is a true all-rounder in valve guide replacement. It is a robust machine with an extremely strong construction.
Comec BGV260 Cylinder head guide press
The Comec BGV260 is equipped with a combined hydraulic / mechanical system. In this way it is ensured that the upper hydraulic cylinder presses evenly on the guide to be removed. At the same time, the head is pushed up so that the operating pressure can be determined. The measured value is displayed by two separate manometers, so that the value can be read in both Kgs and Ton. The required working pressure can thus be determined and adjusted to a maximum of 5 tonnes.
The robust Comec BGV260 offers stable support for the most heavy cylinder heads. With the side controls, the platform can be tilted to an angle of ± 50 °, so that an optimum working position can be found.
The machine is equipped with clear LED lighting. In addition, the tool panel is very handy and makes the machine very complete.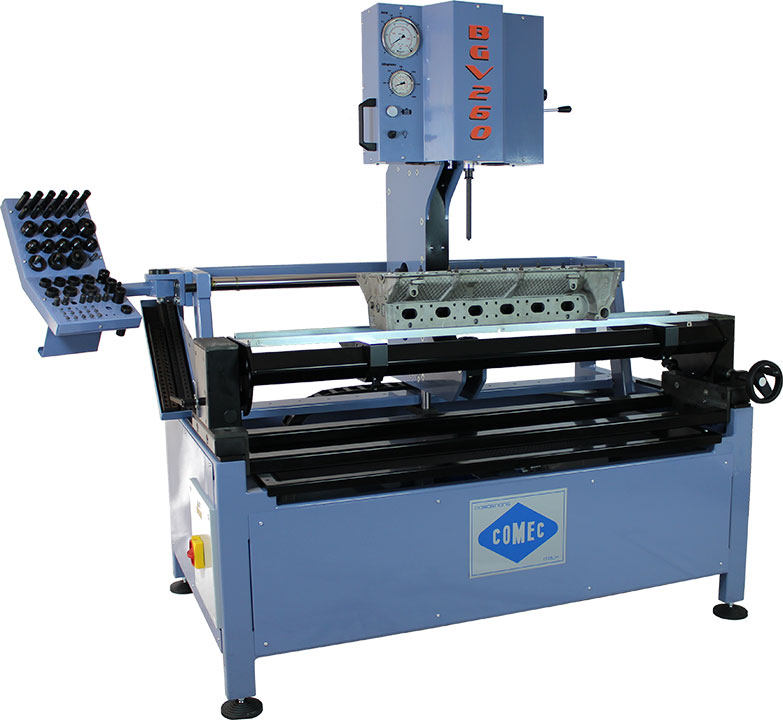 Specifications Comec BGV260
| | |
| --- | --- |
| Horizontal movement | 1100 mm |
| Vertical movement | 50 mm |
| Upper cylinder stroke | 260 mm |
| Table rotation | ± 50° |
| Working pressure | 180 bar |
| Working force | 0 - 5 ton |
| Motor power | 1,5 kW |
| Electric voltage | 230V, 1pH, 50Hz |
| Dimensions (LxWxH) | 1600 x 900 x 1700 mm |
| Weight | 480 Kg |
Hydraulic unit
Working pressure reading system with 2 pressure gauges
Swivel cradle with adjustable supports
Set of push-guide tips
Equipment drawer
Integrated LED spotlights
Wrench set
Instruction manual