Comec ACF170

cylinder boring and resurfacing machine
The Comec ACF170 combines boring as well as resurfacing, which makes this machine an ideal combination tool for overhauling engine blocks of cars and trucks. Normally you only see this with very expensive models, but the Comec ACF170 can do it all!
Comec ACF170 General information
The machine table has a large feeding range in both length and depth. The head also has a high range in vertical displacement. This machine has a large working capacity. However, the machine itself has limited dimensions and is therefore ideal for the overhaul workshop with limited space.
The application of technical innovative solutions improves the performance of this machine and offers more possibilities. Because we extensively test the machines, we offer the guarantee of excellent quality, workmanship and precision.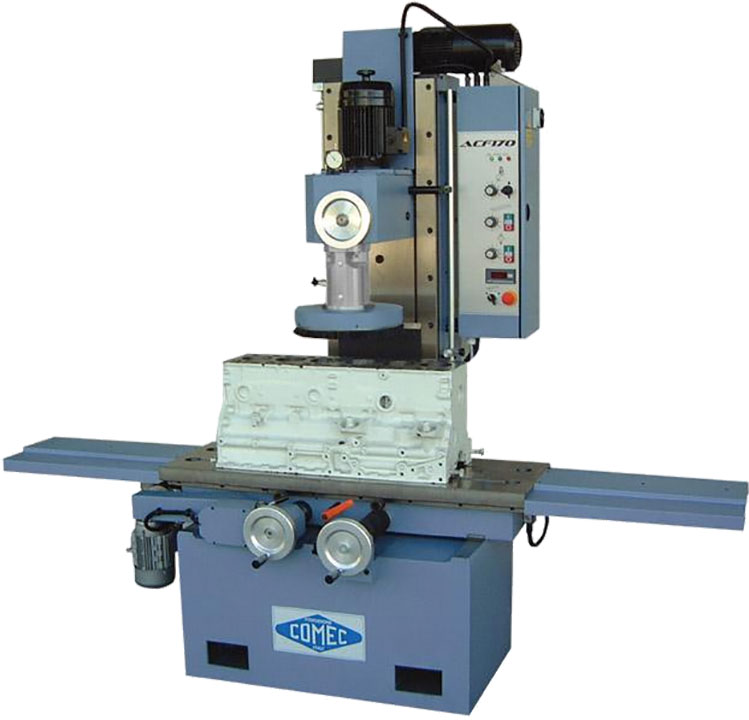 Comec ACF170 Specifications
| | |
| --- | --- |
| Boring range | 30÷170 mm |
| Max Vertical travel of the Head | 670 mm |
| Max distance from head to table | 940 mm |
| Distance from spindle center to column | 290 mm |
| Spindle rotation speed (adjustable) | 75÷700 rpm |
| Spindle feed | 0÷175 mm/min. |
| Table surface | 1040x370 mm |
| Max longitudinal table travel | 1000 mm |
| Max transverse table travel | 200 mm |
| Spindle motor power | 1.5 kW |
| Rapid feed motor power | 0.37 kW |
| Dimensions (LxWxH) | 1030x1020x2000 mm |
| Net weight | 1150 Kg |
| Gross weight | 1330 Kg |
Adjustable spindle speed with digital indicator
Adjustable boring bar feed
Adjustable table feed (only model ACF)
Tool setting dial indicator with magnetic base
Depth of boring device with dial indicator
Precision centering device with dial gauge
Adjustable control stop
PV0160 Pair of parallel supports
Wrench set
Instruction manual
If you want more information about this machine, please contact FijnTechniek Fijnaart (FTF):