Comec LBM850

line boring machine
The Comec LBM850 Line Boring Machine has been specially developed for drilling the crankshaft and camshaft holes in engine blocks of cars and smaller trucks.
Comec LBM850 Line boring machine
The drilling shaft is supported in 3 places by sturdy movable arms, so that a high rigidity is guaranteed during machining. The height and width can be adjusted with the fine adjustment knobs, so that a perfect centering can be achieved, supported by dial indicators.
The versatile and useful fixture on the Comec LBM850 simplifies and speeds up the clamping action of every type of cylinder head and block.
With the mounted frequency inverter the speed can easily be determined digitally and steplessly without this being at the expense of the power. The digital RPM display shows the speed so that the correct rotation speed can be easily adjusted.
The Comec LBM850 Line boring machine is the only solution for the reconditioning of housing holes either of camshaft cylinder heads and crankshaft blocks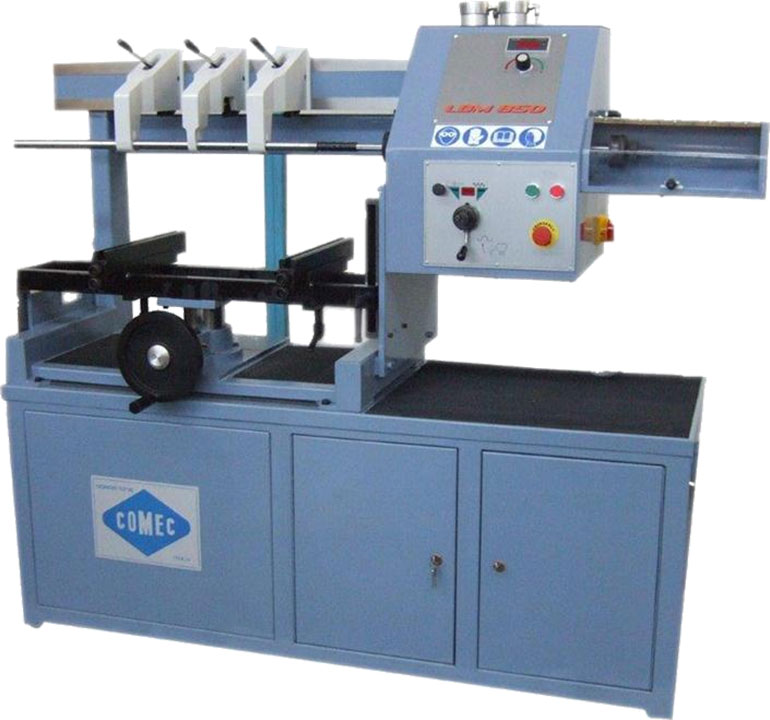 Specifications Comec LBM850
| | |
| --- | --- |
| Boring capacity | 24 - 85 mm |
| Max spindle travel | 100 mm |
| Min-Max distance height supports to bar C/L | 100 - 376 mm |
| Max cylinder head and block length | 810 mm |
| Max cylinder head and block width | 300 mm |
| Variable spindle rotation speeds | 250 - 1000 rpm |
| Spindle traverse rate | 0 - 1000 mm/min |
| Feed Motor power | 0,50 HP |
| Dimensions (LxWxH) | 1780x800x1385 mm |
| Weight | 375 Kg |
Continuous variable spindle speed
Basement with equipment-tray
Boring bar supporting arms
Universal head clamping fixture
Dia. 24-85 mm Chromed tool holder bar
Dia.50 mm Toolholder ring for blocks
Set of boring tools
Centering device (2 pieces)
Tool setting device complete of dial gauge with micrometer
Wrench set
Instructions manual