Comec ACF200 

cylinder boring and resurfacing machine
The Comec ACF200 cylinder boring and resurfacing machine is a professional combination machine for boring and resurfacing engine blocks and cylinder heads of cars and trucks. Normally you see this kind of possibilities only with much more expensive versions.
Comec ACF200 General information
This machine is very compact and still has a considerable large working capacity due to the large table and the large range of the table feed. Also the machine head has a large vertical feed range.
The Comec ACF200 is very robust and has a perfect finish. Thanks to the application of technical innovations, this machine is very precise and production performance has been improved.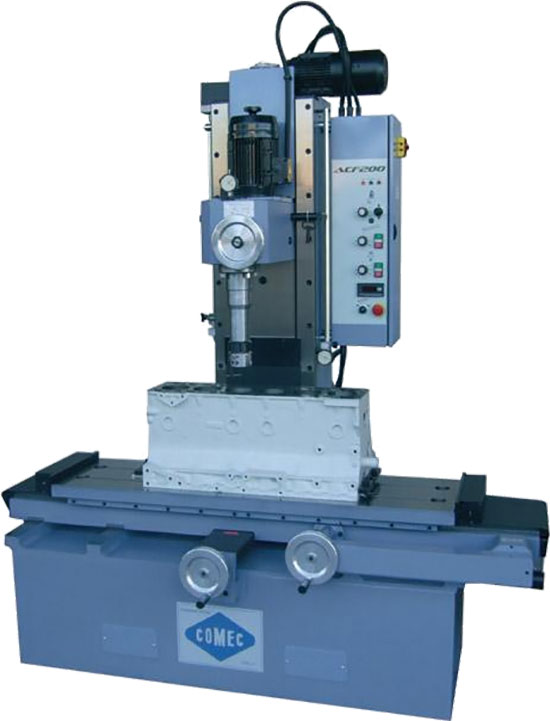 Specifications Comec ACF200
| | |
| --- | --- |
| Boring range | 30÷170 mm |
| Max head vertical travel | 670 mm |
| Min-Max distance from head to table | 370÷1020 mm |
| Distance between spindle C/L and column | 290 mm |
| Table surface | 1340x370 mm |
| Max table longitudinal travel | 1200 mm |
| Max table transverse travel | 200 mm |
| Adjustable spindle rotation speed | 75÷850 rpm |
| Adjustable boring bar feed | 0÷175 mm/min. |
| Adjustable table feed | 0÷460 mm/min. |
| Spindle motor power | 1.5 kW |
| Rapid feed motor power | 0.37 kW |
| Table feed motor power | 0.55 kW |
| Dimensions (LxWxH) | 1860x1150x2170 mm |
| Weight | 1380 Kg |
Adjustable spindle speed with digital indicator
Adjustable boring bar feed
Adjustable table feed (only model ACF)
1/2" CBN or PCD milling plate dia. 320 mm
Tool setting dial indicator with magnetic base
Depth of boring device with dial indicator
Precision centering device with dial gauge
Adjustable control stop
PV0160 Pair of parallel supports
Wrench set
Instruction manual