Comec ACF200 CNC

cylinder boring-resurfacing machine
Comec ACF200 CNC Cylinder boring-resurfacing machine. For the revision of engine blocks from cars and trucks. It can be useful that different operations can take place on a single machine. The 2 most important operations are boring and surfacing.
Comec ACF200 CNC General information
The Comec ACF200 CNC boring machine combines these two most important operations in one machine! Thanks to the CNC control, this is now also fully automatic, fast and extremely accurate.
The introduction of highly innovative solutions makes this machine even faster and more practical to use. This machine is of course very robust and extremely precise, resulting in a high-quality end product.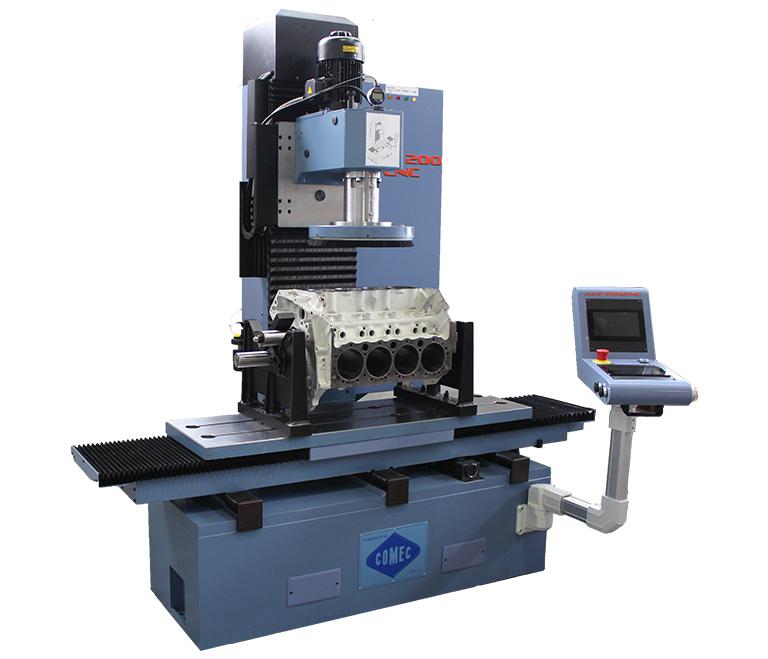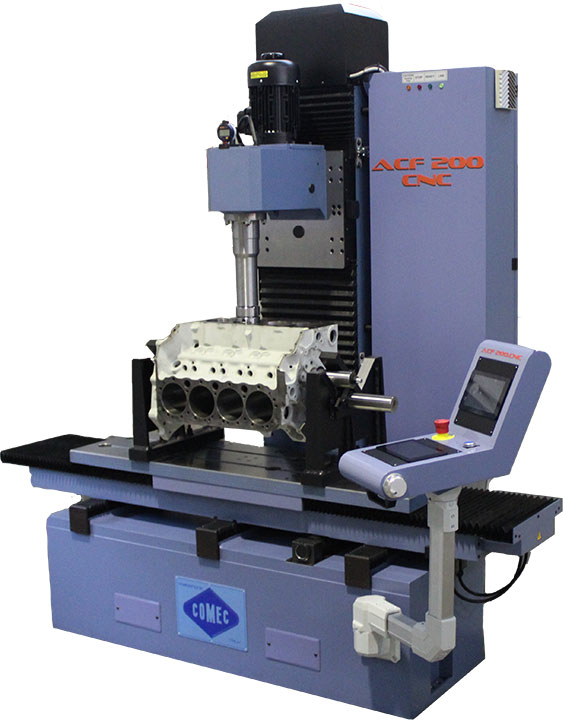 Comec ACF200 CNC Cylinder boring-resurfacing machine
| | |
| --- | --- |
| Boring range | 30÷170 mm |
| Max head vertical travel | 700 mm |
| Min-Max distance from head to table | 370÷1020 mm |
| Distance between spindle C/L and column | 290 mm |
| Table surface | 1340x370 mm |
| Max table longitudinal travel | 1200 mm |
| Max table transverse travel | 200 mm |
| Adjustable spindle rotation speed | 75÷850 rpm |
| Adjustable boring bar feed | 0÷3000 mm/min. |
| Adjustable table feed | 0÷3000 mm/min. |
| Spindle motor power | 1.5 kW |
| Rapid feed motor power | 1.27 N/m |
| Table and travers feed motor power | 1.27 N/m |
| Dimensions (LxWxH) | 2045x1245x2175 mm |
| Weight | 1540 Kg |
Computer Numerical Control using LINUX Operating System and ARMv8 CPU Processor
Precision Ball screw drives on 3 Axis
Movements by linear railways on 3 Axis
Brushless motors on 3 axis controlled by CNC
Swing arm control panel with double touch screens
Electronic Handwheel for manual displacement on 3 Axis (Fast-Medium-Fine speeds)
Full automatic and programmable working modes for boring and milling operations
WI-FI and LAN connections for support and service
PV0160 pair of parallel supports
PV0021 large clamps (2 pcs.)
PV0022 small clamps (4 pcs.)
Wrench set
Instruction manual