Comec VPT160

pressure tester for cylinder heads and blocks
The Comec VPT160 tester tank is a 590 l. hot water immersion tester for the easily and precisely detection of any failure and wear on cylinder heads and blocks.
Comec VPT160 pressure tester
The tank, complete with its cover, is manufactured in stainless steel and perfectly insulated to avoid heat dispersion. It is filled with water that is heated by two powerful 4,5 kW independent heating elements controlled by an automatic timer, which includes heating programmes to reduce electric consumptions.
The temperature can be set from 30° up to 90° C
This brand new model enables the operator to work heads of up to 1340mm of width.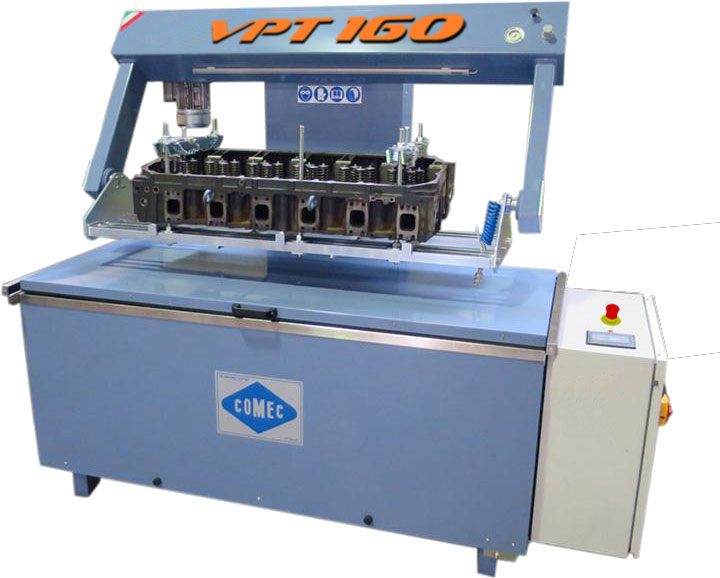 Comec VPT160 Specifications
| | |
| --- | --- |
| Maximum cylinder head capacity | 1350x410x410 mm |
| Tank capacity | 590 l |
| Maximum cradle travel | 550 mm |
| Heating elements | 2 x 4,5 kW |
| Adjustable work temperature | 30 - 90° C |
| Cradle rotation speed | 4 rpm |
| Cradle up-down speed | 60 mm/sec |
| Hydraulic station motor | 0,75 kW |
| Cradle gearmotor | 0,25 kW |
| Dimensions (LxWxH) | 1950x1100x1800 mm |
| Weight | 610 Kg |
Flat cylinder head support parallels
Adjustable support parallels for wedge-shaped cylinder heads
Fixing crossbeams of Plexiglas plate with plates
L=380 mm fixing tension rod with nuts and washers
500x250x30 mm Plexiglas plate
800x250x30 mm Plexiglas plate
500x500x8 mm Rubber sheet
500x500x3 mm Rubber sheet
Side-locking plate with quick-release coupling
Standard equipment instruction manual